This blog post is long overdue…but we are back from the High Point Furniture Market with some great stuff to share! We are so excited about the new lines and can't wait to use them in upcoming projects. We hope you like what we found too! Here are some of the best things we found and our thoughts on the trends and products of 2011.
We loved this contemporary take on a traditional wing back chair. The inside fabric is burlap and we love the texture it adds to the piece.
Eastern Accents' new bedding lines are so fresh and fun. The blue ikat and geometric fabric are a perfect combination to freshen up for spring.
Wow! These ottomans were by far the coolest things we saw at market! The tops are salvaged fabric and the base is acrylic – such an interesting and funky combination.
One of our favorite pillow lines – we can't wait to get pillows from their new collection for the studio front. They have fun patterns and color combinations at a great quality and price!
Fun, organic and colorful pillows were all over market this year!
We had some fun with these over-sized tennis rackets! A real accessory indulgence for our tennis lovers!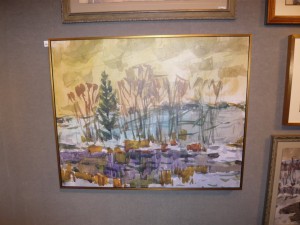 This watercolor landscape has a fresh color combination. We really like how the blue in the middle of the piece pops against the more neutral tones of the sky and land.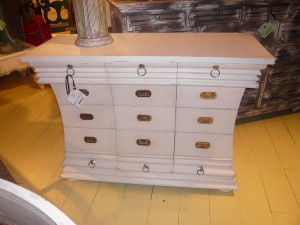 This is such an interesting console. We particularly like the shape and hardware combination.
We love the geometric pattern and the contrast of glass and metal of this new Stanley cocktail table.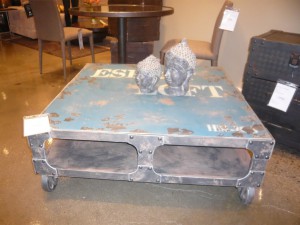 We saw a lot of the "Cottage Industrial" look this year, like this fun reclaimed metal cocktail table. It's perfect for a lower level or casual family room to help bring in a different texture.
We were obsessed with this vignette! The day bed's clean lines contrasts well with the scaled pattern of the area rug. The woven texture of the ottoman adds an interesting element in the mix as well. We saw a lot of vintage inspired truck cocktail tables this year.
This British flag area rug is perfect for the Royal Wedding fans our there. We saw this trend in area rugs, trunks and pillows.
Metal wall decor rings are great for a sculptural element in a home and can even work in a hallway!
We love this table because it has a unique balance of rustic and sleek.
The nail head trim and silver hardware adds a unique element to these host/hostess chairs.



This is one of our favorite ottomans. We really like the interesting contrast of the fabric and the iron.

Geometric shapes were popular, such as concentric circles and grid patterns.
The linen inset on this chest adds a contrasting element we can't resit!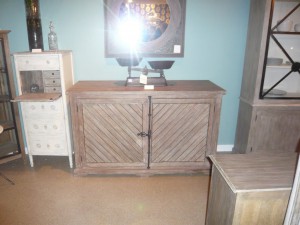 We loved this chest because of the interesting wood work and the metal hardware running down the center. This could be a great alternative to a family room television console.



This lantern chandelier was fabulous. The twisted hammered metal had a very high end look at a reasonable price point.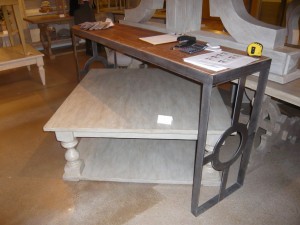 Loved the circle detail of this console! It adds an interesting element to the design..
Mixed media furniture was extremely popular, for instance these wood/metal combination are actually available in a variety of finishes.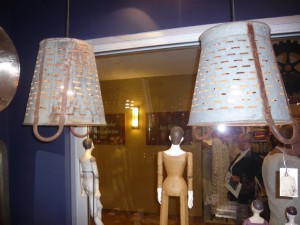 Hanging basket pendants are a great look for a modern farmhouse kitchen.
"Found objects" were used to create light fixtures. These would add a whimsical touch to a kitchen or pantry.
This modern school house pendant would look amazing over an island in a modern kitchen.



Try pairing a metal pendant with a chunky rustic wood table to create a contrast of wood and metal that is very popular right now.
Here's a modern mid-century lamp design – we can't wait to see it in a design!
These metal pieces are a great sculptural alternative to artwork. They are actually impressions of antique ship pipes and certainly a one of a kind find!
How great is this driftwood seahorse?? It's so lively and fun, and would be perfect for a beach house or even a kitchen. It will add great texture to any space!


The red CB bags were a HUGE hit at market! We got compliments on them everywhere we went. The Halo rickshaws were perfect for toting us around market… definitely a well deserved ride after a long day of walking.