Got guests coming for the holidays?  So do we!  Recently we've been working on guest room makeovers in preparation for the holidays.  Check out some of our client's challenges and how we addressed them…
Help Rescue Me from the 1980's!
This client's Laura Ashley bedroom with outdated furniture and accessories needed to be brought into this century.
1980's Before:
2013 After:
Whittington Design Studio
Soothing paint tones, a new, contemporary bed frame and bright pops of color in the art and bed linens take the space from outdated to sophisticated.  Custom draperies and woven blinds add softness and texture.  You don't have to go super high end to transform your guest room.  This client chose to splurge on a stylized Bungalow dresser and matching night stand to add color and glamour to the space, but shopped retail for her art and bedding.
Whittington Design Studio
Help Me Funk Up Grandma's Bed
Sometimes, a client wants to keep grandma's furniture.  In this case, the original owner of the bed was a Vaudeville dancer — clearly grandma was hipper than the room.  The 1990's floral print and  pillows and the flat, ivory and brown color scheme made the whole space feel lifeless and blah.
Grandma's Bed Before:
Grandma's Bed After:
Whittington Design Studio
The big transformation here is the paint color — navy is classic and also very current, but it's hard to find that perfect navy that does not feel dark and gloomy.  This client splurged on Farrow & Ball paint to get just the ride shade of blue, but saved with some West Elm ready-made drapes.  The original bedside tables were painted (by a crafty friend) in Benjamin Moore's Decorator's White and topped with stylish Currey & Company Dante lamps.  The orange recliner and art were claimed from another part of the house, providing great pops of color against the navy.  The Robert Allen ikat and Ryan Studio ribbon-trimmed pillows pull it all together.  Grandma's bed is still there (and so is the original bed spread) but the space is now so hip you feel like you are in a boutique hotel in New York City.
Help Me Make My Tiny Space More Contemporary and Comfortable.
This client was expecting friends for the holidays and was looking for a more contemporary vibe in her guest room.  Replacing the old, iron bed with something more comfortable was top on the priority list.  But space was also at a premium.
Traditional Small Space Before:
Contemporary Small Space After: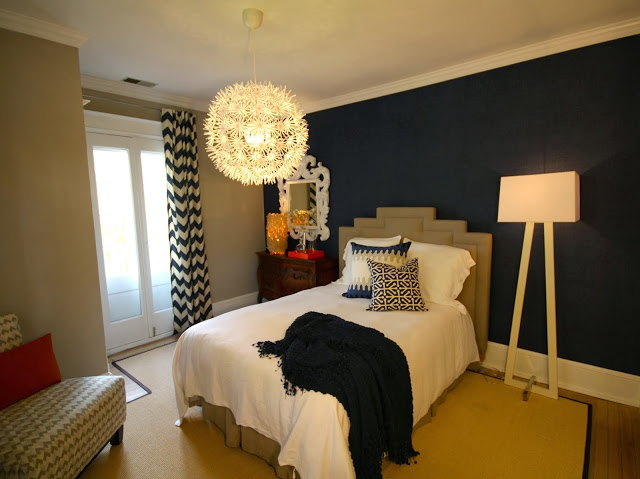 Whittington Design Studio
The impact here comes from navy grass cloth — everything else pops against this backdrop.  A mostly monochromatic color scheme helps the small space feel larger, but doses of orange keep it hip.  The mirror went from Victorian to contemporary with a coat of white paint.  We kept the antique chest and sisal rug but replaced the old, iron bed with a more comfortable upholstered headboard from
Precedent
.  The stair-step style of the headboard is way more dramatic and is complemented by the angular floor lamp.  The chevron drapes (another West Elm budget saver) are also very current.  Dropping a light fixture over the bed helps illuminate and dramatize the space without taking up more real estate on the dresser.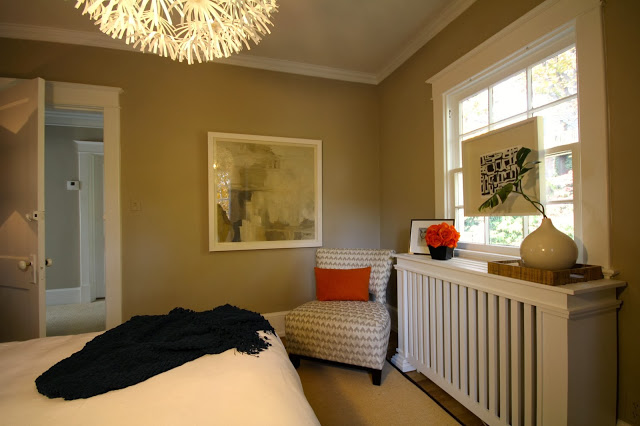 Whittington Design Studio
A radiator cover was built to disguise an unattractive heat source and provide additional display surface in the tiny room.  For a unique treatment of a window looking into the garden, we layered on artwork — two great views for the space of one!
Now the room has an eclectic, modern vibe and our client is ready for her holiday guests.
How about you?
At this point in the year, you don't really have time to makeover your entire guest room by the holidays — furniture orders can take as much as 12 weeks, not to mention the design time — but you CAN take some inspiration from our guest room makeovers.  Think about where to spend and where to splurge and shop other rooms in your house to find side chairs, art and accessories that will pull the space together.
So go ahead and plan your perfect guest room transformation using our spaces as inspiration — and give us a call so you can be ready for next year!
Do it!