Summer's not over yet and neither is the Washington DC heat! Cool yourself off this summer indoors by creating a refreshing oasis. By using a variety of blue tones, you can create a very calm, cool, and collected sanctuary for yourself in your own home.

Photo: House Beautiful
The milky pale blue of the curved wall reflects light into the room with a great glow, and really highlights the intricate design of the art on their wall.

This rustic room is really softened by the feminine china flatware hung on the stone wall, as well as the soft fabric and bold ash blue on the chairs.

Photo: Traditional Home
We love the dynamic contrast of this stark white against the bold royal blue in this shot. The geometric versus the floral pillows are also a nice contrast.

This sitting area looks like a great way to cool off and relax with a cold drink and some friends. The bright blue fabric on the chairs paired with the textured floor really adds dimension to the room.

Photo: Lonny Mag
The mix matched patterning of the wallpaper, pillow, and ottoman really work well with this perfectly symmetrical room. The ash blue of the walls paired with the fresh green in the pillow and ottoman give a surprisingly comforting contrast while staying in the cool color family.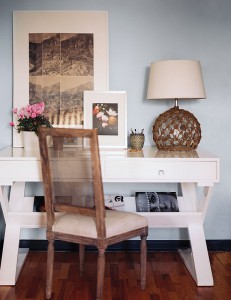 Photo: Lonny Mag



Just a nice quiet place to get work done or read, the super faded blue on the wall is a nice subtle use of color.
Photo: House Beautiful
The beautiful marine blue curtains really give height and elegance to this formal living room.
Photo: Lonny Mag
A great aquamarine color on a bedspread gives the room a bright yet soothing feeling. The toned down aquamarine on the walls compliments nicely.
This classic, country staircase really gets a pop of color with the antique blue and gold in the framing along the wall.