Yesterday was the grand opening of the new Washington Design Center and the event was reminiscent of a miniature High Point Market. Who doesn't love a celebration of great luxury design — especially when it's packed with 21 freshly stocked design showrooms, special guest speakers, multiple food and beverage spreads and all the players on the local design scene? Even the mayor showed up for the ribbon cutting! Here's a recap of our afternoon and evening:
There were some design celebrity moments:
Artist Hunt Slonem was on hand in the Kravet/Lee Jofa/Brunschwig & Fils showroom to talk about blending art and design and his eponymous collection for Lee Jofa. He signed copies of his book for the adoring fans against a backdrop of fabulously draped fabric and under the glow of a stylish light fixture.
Check out the cool light fixture — those are mini geodes suspended inside the brass rings:
Barry Dixon spoke about his inspirations and collaborations in the J. Lambeth showroom while his latest collaboration with Vervain was unveiled next door. It was very interesting to hear him discuss how his inspirational drawings transform into successful products like the mosquito leg and magnolia pod lines for Avrett. We also love the fact that one of his recent design books features a 20-year-old project on the cover. Timelessness is very cool.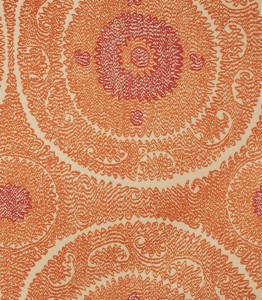 Cappadocia Woven Bittervine (inspired by a wagon wheel).
Vervain
There were miles and miles of carpets, fabrics and trim:
Fabulous designers in front of the fabulous trim options at Holland & Sherry
We're aways working for our clients, even when we're out partying with other designers!
Kravet
Kate admires the Kravet fabric.