Award season has come to a close so we decided to do our own style critique on the best dressed nominees from the Golden Globes and Academy Awards.
Colors and styles in the fashion industry translate to the interior design world every season. If you liked the red carpet styles, you can achieve them on your own. Add color and style to your home this season with the hottest red carpet looks.
Here are some of our favorite dresses from the Golden Globes and Academy Awards and how to use these beautiful looks in your own home.
Mila Kunis looked stunning in this lavender dress at the Academy Awards. We love the flowing nature of the dress and how it conveys a sense of spring that we are so desperately longing for.

Schumacher has some amazing fabrics right now that remind us of Mila's dress from the Oscars. Try using lavender on drapery or throw pillows and it will perk up your space and give you a fresh look for spring.

Wisteria must be the inspiration for this trend, and now we can't get enough of it!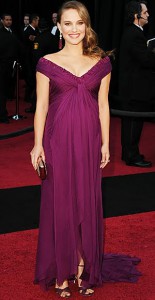 Natalie Portman looked beautiful at the Academy Awards in this Rodarte dress. We love using this deep shade of purple in designs, especially when contrasting with aqua.
Try out this Trina Turk pillow as an accent in your living room or family room. This pillow is a perfect accent if you have a more clean-lined, contemporary and fresh style.
Photo: www.houseandhome.com
Here are some fun accessory ideas to pair with your new purple accents. Purple and a light aqua are an interesting combination and you can incorporate the two with pillows on a neutral sofa. Fresh flowers are a classic way to instantly light up a room, so this year try out fuchsia or purple for a more stylish take on this classic design tip.


Gwyneth Paltrow's dress was definitely the favorite of the studio's. This sleek Calvin Klein dress was stunning on her and we love the way it catches your eye. Try the sleek, metallic look in different accessories in your home to glam up a dull space.
A hanging pendant in platinum will instantly add a chic element to your space. We like the way this pendant echoes the shape of Gwyneth's dress.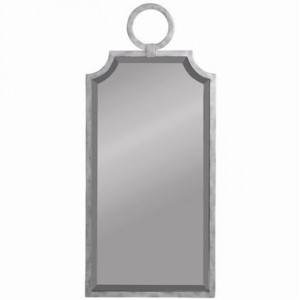 Another sleek accessory to try is a sliver leaf mirror. You will be amazed at the instant glam it will give your home.
Photo: www.peoplewatch.com
Red definitely dominated the red carpet at the Academy Awards and the Golden Globes. Red is fun to use in interiors because it creates energy and impact. Try it on your walls with an abstract piece of art. Whether it is in a hallway or over a sofa, this artwork will definitely catch your eye.
Leftbank Art
Amy Adams looked amazing in this sapphire dress. Navy and colbalt blue can make a dramatic statement as accents in your home, but don't always have to add the sophisitcation and glam as this red carpet look.
Anne Hathaway's dress is another stunning expample of this sapphire trend.
Photo: Canadian House and Home
Try the color on an accent wall with contrasting white accessories. The white will really stand out against the blue and will create a very sharp and crisp look.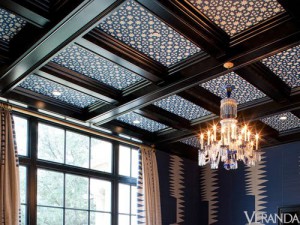 This ceiling is absolutely amazing… almost as amazing as the red carpet dresses! It just shows how beautifully dark blue and white contrast against each other to create a clean design.
Tracy Glover hanging pendants with hand-blown glass details will help you achieve this red carpet look. Try them over a dining table or hanging in a set of 2 or 3 over a kitchen island.
This blue settee from Anthropologie is striking and eye catching. Try it in an entryway or hallway for an interesting and unexpected element for your guests to discover.
These new Trina Turk pillows will complete your blue theme. Once again, the clean lines and contrasting blue and white will really make a statement.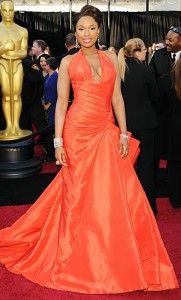 Jennifer Hudson's tangerine dress looked beautiful on the red carpet and the color is easier than you think to pull off in your house.
Try orange as an accent pillow on a white or neutral sofa or chair. We also love the way orange compliments with navy, green and aqua so you can definitely incorporate all four colorways in your space.
This orange metal accent chair from Anthropologie is so fun and whimsical. Try it in a corner for an unexpected spalsh of color or mix in a few with your exisiting breakfast room chairs for a fun and energetic space.

Tangerine walls don't always have to be in an ultra-contemporary room. Here is a perfect example from Canadian House & Home of how a tangerine wall can actually create an intimacy in a dining space.
Light pink was one of our favorite trends at the golden globes and now we can't wait to use it in a design. Sometimes people are nervous to use pink in spaces other than their daughter's bedroom, but here are some tips from
House Beautiful
that will help you overcome the fear of pink.
House Beautiful
Don't be afraid to mix different tones and textures of pink. This space works because pink is carried throughout the room in various forms. The muted colors of the artwork against the pale pink wall help create a look that isn't overly girlie.
Change up your dining room by reupholstering existing chairs in a pink vinyl. You can finish off this soft pastel look with the right artwork and flowers.
House Beautiful
This window is beautiful with the flowing pink drapery, and we love the way the pink contrasts against the floor.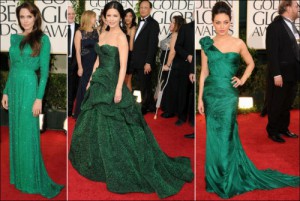 Photo: www.peoplewatch.com
Angelina Jolie, Catherine Zeta Jones and Mila Kunis looked amazing in emerald dresses. Try it in your home with these accessories.
Try to mix up your color scheme with emerald vases on a console or mantle. This color contrasts well against a white mantle or even a dark espresso wood finish. You can complete this look by adding tall stalks which will also create height.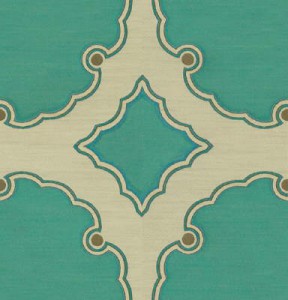 Here is a new fabric from Kravet with a beautiful emerald undertone. It is actually a silk blend with a metallic thread and can help achieve an unexpected element of sophistication to a living room.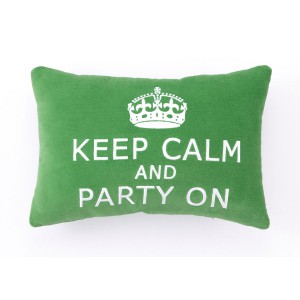 This Peking Handicraft pillow is great! We are thinking about getting them for our office chairs just to keep our minds on track!
For a green two-toned look try these hand-blown glass vases from Tracy Glover Studios. It will add a touch of sparkle to sideboards or dining tables.