Whittington Design Studio – KH Framing Fine Art & Custom Framing Gallery presents an abstract art exhibition featuring local artists Gisela Miller and Marsha Staiger.
DOUBLE VISIONS
Exhibition Dates:
January 24th to March 1, 2011
Gallery Hours:
Monday – Friday from 9 to 5 and by appointment
Please contact Anna at 703-533-3705 or anna@whittingtondesignstudio.com with any questions regarding the show or scheduling an appointment.
Reception with the Artists:
Feb 3rd from 4 to 8 pm
Please stop by for an evening of wine and original artwork this Thursday.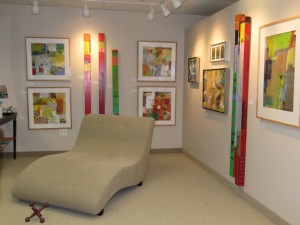 Marsha Staiger's series "R &B" will be among the artwork showing in the Whittington Design Studio Gallery. The series consists of tall wood boards and embodies the artist's exploration of elongated forms. The "R & B" title refers to rhythm and balance and alludes intentionally to rhythm and blues music. The artist uses music as a stimulus while painting and finds inspiration in the drive and variation in R & B. During her creative process a rhythm builds in Staiger's paintings, creating tension, harmony and tone. Staiger works and reworks these boards until the paintings seem to pulse and breathe on its own.

Marsha Staiger
"R & B" Series
Marsha Staiger
"R & B" Series and "Embedded Infatuation"

Gisela Millers "Remembered Landscapes/Electrified Cityscapes" series will be featured as well. Miller's unconventional paint/print techniques create images side by side with an altered interpretation of abstracted landscapes and cityscapes, which were inspired by her travels to the American West and Northeast. The artist was greatly influenced by the colors, light, air, clouds, and water of these two distinct locales. Some of the paintings were executed in a unique paint/mono print technique.

Gisela Miller

"I Love This Place"
Gisela Miller
"Bridges to all Possibilities"
Gisela Miller
"Sunny Days"