A new year is here and it's the perfect time to refresh and reinvent your home! Our New Years resolution is to give you the best advice on your toughest design dilemmas. The holiday celebrations, dinners and parties are behind you so this is the perfect time to give you house a little TLC. These cold winter months call for plenty of indoor activities, so it will be worth making your home a place where you love spending time! All you need is a little paint, lighting and fabric and you will be good to go!
Paint…
An easy way to instantly create a new look is painting with contrasting colors. We are obsessed with this design, and especially love how the graphic wallpaper really makes a statement against the white stairs and black trim.
Photo: Canadian House and Home
A paint color we are dying to try out on our own living room walls is charcoal. It creates a masculine yet serene setting and can be complimented perfectly with pops of color in artwork and throw pillows. You can see how industrial chic lamps and accessories work well with this paint color.
Photo: Canadian House and Home
Grass cloth is another way to change the look of a room and warm up your walls for winter. It is perfect if you are looking for a neutral color.
Photo: Canadian House and Home
Adding texture can liven up any space… even the front of our studio!
Refreshing a space with paint can even work with furniture! Try this do-it-yourself project to revamp a kitchen or breakfast area by painting chairs a fun accent color. It is a cost efficient way to completely change the look of a room.
Photo: Coastal Living
You can take this design tip even further by painting your walls, table and chairs! Try combing bright green with turquoise for a fun and fresh look. This is a good tip for those of you with small kids who have totally worn down your existing furniture!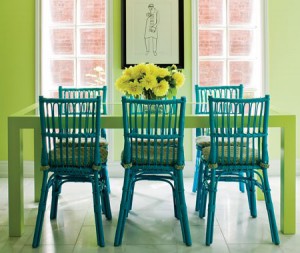 Photo: Canadian House & Home
No that we have touched on paint, here is a look at a complete transformation courtesy of
House Beautiful.
By adding new lighting, fabric, and area rug this room takes on a completely new look. It doesn't take long either… this can definitely be done in one day!
Wow… this room has so much color now! The area rug and the artwork make a huge impact while the draperies and throw pillows add a fun and whimsical element. Now here are some tips on how to achieve this in your home.
Lighting…
A helpful tool designers use to change the look of a room is adding fun accessories. By using a brightly colored lamp in your space, you can instantly create a fun and unexpected element.
Here are some of our favorite colorful lamps we use to achieve this look …
Finding the perfect fabric can be difficult but very rewarding when reviving a dull space. Try a colorful geometric design for new draperies and throw pillows. You will be amazed at the difference it will make.
To anchor the room, try a patterned area rug. We like this rug for its pop of turquoise and Bohemian vibe!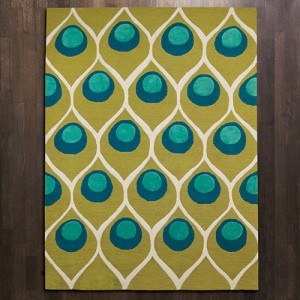 Try achieving this transformation on your own by following our helpful tips and also shopping at our Designer Closet Sale on January 15th!
The sale is at our studio and gallery on Jan 15th from 11 am to 3 pm. We are making room for new and exciting merchandise for our studio and gallery which means everything we have now must go!
Take advantage of this exciting opportunity and get art, accessories and furniture for less than wholesale to help you revamp your space this New Years!

Designer Closet Sale
when: January 15th
11 am – 3 pm
where: 2499 N. Harrison Street LL9 and LL7
Arlington, VA 22207
*we are located on the lower level of the North Harrison Street Plaza
please call 703-533-3705 for questions on directions



We want your feedback! Post a comment or email us at info@whittingtondesignstudio.com for thoughts or questions on our blog.