We made a trip to the 2010 High Point furniture market this year and had a blast seeing new vendors, trends and having cocktails at the rooftop bar at Vanguard! Reclaimed wood and wood mixed with metal was consistently the trend across the board. The juxtaposition of metal and wood adds a rustic yet modern element to any design. Here are some of our favorite things from this years market!
We fell in love with this metal crate chandelier from Currey & Company. Currey & Company's unique take on this classic industrial frame was very successful!

We spent hours looking around Design Legacy's showroom. Every corner was filled with the most unique and intriguing items – all very shabby chic! We love the scale of the butterfly print linen on this side chair. The chair would be the perfect way to add a little color and style to a bare space.
How cool is this chair from Halo Furniture? We love the contrast between the metal back and leather seat, and the nail head trim really adds an element of sophistication to this vintage-inspired piece.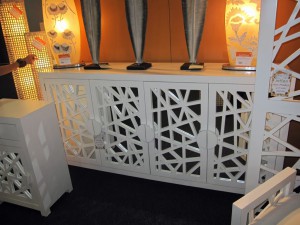 We love this sleek mirrored buffet from Jeffan International. A piece like this would add an element of sophistication to any dinning room.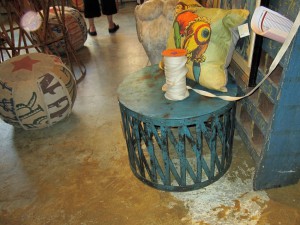 We spotted color in every corner. Color is a mood changer and a great way to change the dynamics of a space. By adding a little rustic side table like this Design Legacy one you can transform a dull space into something much friendlier!

These dog prints are adorable for a kid's room or family room. These mixed media prints are affordable and will be a perfect addition to our gallery.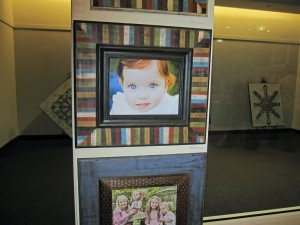 We found a great frame source at market this year that we will carry in our gallery and studio store front. These colorful frames are made of reclaimed wood and are all painted with fun colors that are perfect for a shabby chic family room!