We are crazy for throw pillows at Whittington Desgin. Always have been, always will be. "Just a pillow?" you might ask. We shutter the thought! A pillow has the ability to make or break a room. By adding an amazing pillow to a sofa, armchair, chaise, or banquette, you can transform a dull space into something beautiful and exciting… and it will literally take you two seconds. Fortunately for you, Whittington Design is your source for these amazing little design treasures. Here are some of our personal favorites
from our studio that will be a perfect addition to your home this fall!
Orange, cream, green and a little blue are beautiful colors to warm up your home for the fall months.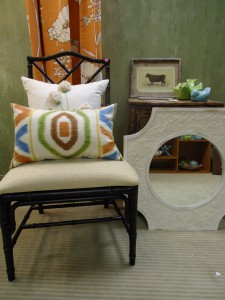 Here are more pillows in our art gallery!
We love the way these pillows bring out the vibrant colors of the artwork! Not only do they make the chaise stand out, but also draw your attention toward the artwork on the walls.
And here are some our the most outstanding pillows from Dransfield and Ross – king of pillows!