Lauren Ray is an artist in DC who is currently showing several pieces of art in our gallery. We fell in love with her work instantly because of her bold brush strokes and vibrant color. These whimsical paintings are a perfect way to add a splash of color to a dull wall. An original Lauren Ray piece would make a fabulous addition to a chic downtown DC apartment!
I love the scale of the peacock on the paper and the fact its tail consumes the entire piece.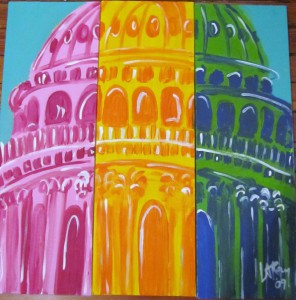 Lauren has a series of politically inspired paintings like this image of the Capital. I love the three panels and the bold contrast of the colors.
This is my favorite piece! It's titled "California" and it is currentley hanging in our gallery.
This is another gypsie girl piece…the wavy hair is so fun!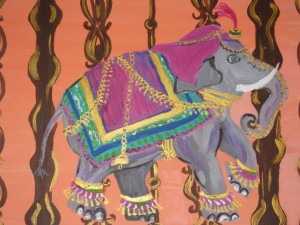 "Elephant" is also hanging in the gallery and has an extrodinarly unique shade of pink as the background color.
This piece is "Elizabeth I" and it is hanging in the gallery as well. The contrast between her turquoise crown and orange hair are amazing. Turquoise is the color of the season and looks beautful with a splash of orange!