When the sun goes down before 5:00 pm, it becomes increasingly difficult to keep your attitude bright. As we creep into deep, dark winter, allow us to shed a little light on one of our favorite ways to enhance the mood.
Lighting is often overlooked, but it is one of the most important design elements in any room. It creates mood-setting ambiance, has the power to make us see better, and helps us look better too (the dimmer switch is your best friend). The trick is to add layers of lighting to your room — one light fixture is definitely not enough — with hanging fixtures, floor or table lamps, wall sconces and task lighting.
Here are some new lighting options we took a shine to….
Lighten up. Overhead lighting adds visual drama to the room as well as a layer of lighting that takes up no real estate on floors and furniture. All overhead fixtures should be on a dimmer, however to reduce harsh, unflattering light.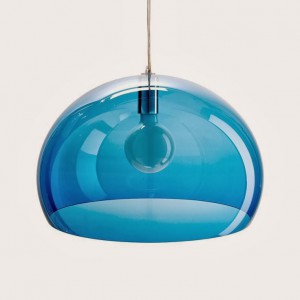 Kartell Petrol Blue FL/Y Pendant
ABC Home
Chord Pendant
CB2
Stand up for your lights. Floor and table lamps are a great way to add a sculptural, artistic element or just a fun pop of color. Every seat in the room should have access to a lamp for reading (and a place to put your drink!)
Up against the wall. Wall sconces may be small but they can have mighty impact on the mood and style of your room. We love to see wall fixtures flanking mirrors, lighting the dining room buffet, above fireplaces or in bedrooms where table space is at a premium.
Shine a light on it. Task lighting does not have to be boring to get the job done.
So many great ways to lighten the mood. Go ahead and lift your spirits in these darkening days of November. It's as easy as flipping a switch!
Do it!