Come back inside and get inspired with Whittington Design Studio this fall. Nothing is more inviting and comforting than your home on the first cool days of October. As the leaves change color and start to fall, be inspired by these five easy tips on how to warm up your space, making it extra cozy for the colorfully cool days of autumn.
Tip #1 Add Texture
Create a cozy setting in your home by adding a variety of texture in the form of pillows, area rugs and wall coverings. Try creating a vignette using textures from the outdoors. We love the combination of the woven basket, sisal rug and tree branches that pull off this relaxed, fall-inspired entryway look.
Try layering textured pillows on a leather sofa and pair them with a retro shag rug to add warmth and depth. A great way to create a look of warmth is to install textured grass cloth to your walls. You will be surprised how intimate and cozy it will make your room feel.
You may not be used to seeing dark wall colors, but this could be that prefect touch to warm up a living room or dining room. We recommend a chocolate brown with cream accessories as well as a fall color, like orange, for a ceiling, wall or accent piece of furniture.
Something about this room just makes us want to drink a lot of hot chocolate!!
Wood paneling is a classic way to add coziness and comfort to a space. Achieve a more contemporary look by mixing wood paneling with a modern fireplace, sisal rug and an bright orange pouf.
Tip #3 – Mix Patterns and Add Layers
Warm up with blankets, throws and cozy pillows and don't be afraid to mix the textures and patterns! We especially like the combination of different patterns in the pillows, the linen upholstered headboard, and the slubby throw in this bedroom. Think of the art of layering as adding a sweater and scarf when you're getting dressed… always perfects a fall outfit!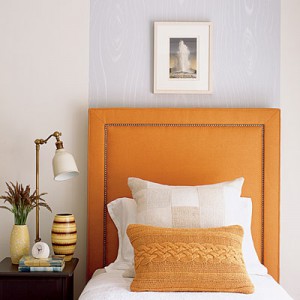 The combination of texture and layers in this room helps to achieve a relaxed look of warmth. We love the cable knit pillows, the charcoal wool blankets and the faux wood wallpaper that extends the headboard to the ceiling. Woven shades behind drapery panels can serve as insulation in a room as well as an interesting element of layering.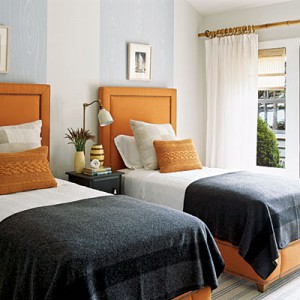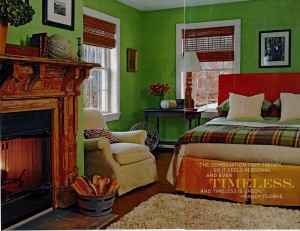 Tip #4 – Love Your Fireplace
It may not be quite cold enough for a big fire, but go ahead and get your mantel ready this fall. Stock your fireplace with Birchwood or try adding a wrought iron fire screen as an accent to your fireplace. These easy fixes will completely transform your hearth and make you want to roast a lot of marshmallows!

Here are some fire screens that will look perfect in your home… whether your style is contemporary, traditional or transitional.

Tip # 5 – Accessorize Organically
The best part about the leaves changing in the fall is that it serves as beautiful decorating materials. We love the concept of bringing the outdoors in, and here are some of our favorite looks to try in October.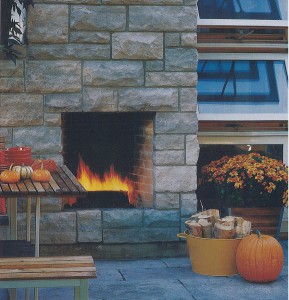 Bring elements of outdoors inside with nature-inspired artwork. A series of three paintings makes a huge impact in a small space such as a dining room.
Check out these lines that we carry here in the studio that can help you achieve these looks for fall.
http://www.dashandalbert.com/
http://www.companyc.com/home.htm
http://www.cyandesign.biz/
http://test.lazysusanusa.com/
http://www.jaipurrugs.com