It's Super Bowl weekend and we are all about to gather around the television with friends and family to cheer on our favorite team. Some of us might even watch the game. Others (you know who you are) might be thinking more about redecorating the family room.
Here in our home town, space is at a premium so the smart money invests in multi-tasking, multi-purpose rooms. We worked with a client in Arlington who gave up her garage to make a comfortable modern family space that serves quadruple duty.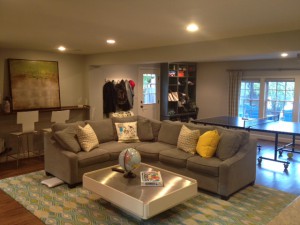 The sunny, open space includes a back entry with mudroom, a dedicated game space for two growing boys, an interactive media room for family movie (or Super Bowl) night and a bar and catering area for adult parties. Mom definitely did not want a playroom here, so we chose a soothing, neutral color scheme and pops of color in the pillows and rug to make an inviting and sophisticated space for adults and kids. In addition to adding color, the patterned modern rug anchors the room and creates visual separation between the lounge area and the game table. The durable light chenille on the sectional is boy-proof but still comfortable.


Everything has its place in this space.

The vintage, Jetsons-era coffee table actually has storage compartments behind those white panels to house video games and controllers.

The bar fridge is stocked with water, juice and soda for the constant flow of neighborhood kids who come over to play Wii. The area can also be easily transformed into a bar and buffet for adult parties.
The back half of the space multi-tasks as a rear entrance and mudroom with cubbies for the boys' sporting gear. The ping-pong table is an awesome addition – fun for kid parties and adult parties too!
So take some inspiration from this Arlington garage conversion and create a modern, comfortable space for everyone in your family. And maybe watch the game too.
You can check out another great family gathering space we designed ("Raising the Bar") in the current issue of
Arlington Magazine
on newsstands now.
p.s. Make it easier to pass the Chips & Salsa! Become a follower or leave us a comment to be entered in a drawing for this 15×15 serving tray from Rock Flower Paper: