Clearly our readers love porch parties as much as we do, based on the responses to last week's post. With autumn weather like we have been having around here lately, it continues to be very enticing to take the party outside.
The goal with porches — be they front or back ones — is to create a comfortable outdoor space that harmonizes with your yard or garden. On the front end, curb appeal and a welcoming feel are important elements of the design. In the backyard, porches are the perfect private escape (and another great place to party with friends).
Here are a few more of our favorite porch projects:
1) Modern & Bright Back Porch Retreat
One of our McLean clients wanted a porch they could enjoy year round but with a more modern aesthetic to match the rest of the house. We think the mix of textures, colors and materials make this space interesting and it still blends beautifully with the backyard.
The key to a comfortable outdoor room is comfortable furniture. A fully upholstered outdoor sofa from
Lee Industries
allows the family to really sink in and relax. The
LloydFlanders
swivel and dining chairs are also comfy perches and add great texture.
Artwork
adds the bright, bold colors our client loves and works with the pillows and ombre
ceramic cocktail table
to pull the space together. The sheer, outdoor draperies soften the edges of the space and add more texture.

2) Funky, Eclectic Porch
This Arlington client is an avid gardener with an organic, eclectic style.
The staggered brick fireplace provides a striking backdrop for a console that was originally a plain, box planter (up-cycled with a rustic paint finish and a new
marble top).
The woven light fixture is from
Padma's Plantation
. It's earthy, funky texture
combines with the
twig balls and rattan furniture to keep the space grounded in the garden. The pops of bright orange and the green zebra indoor/outdoor
rug
make the space fun and fresh. We love the cow sculpture keeping watch on this tranquil scene.
3) Garden Patio Escape
Budget-friendly West Elm outdoor furniture and a Roost cocktail table invite you to sit down with a beverage in this outdoor living room. The lattice structure provides privacy and a "wall" to anchor the furniture. Pillows and plants add color and texture and the hanging hurricane lamps offer a soft source of light in the evenings.
Want more porches to love? We do too! Here are other porches we find inviting: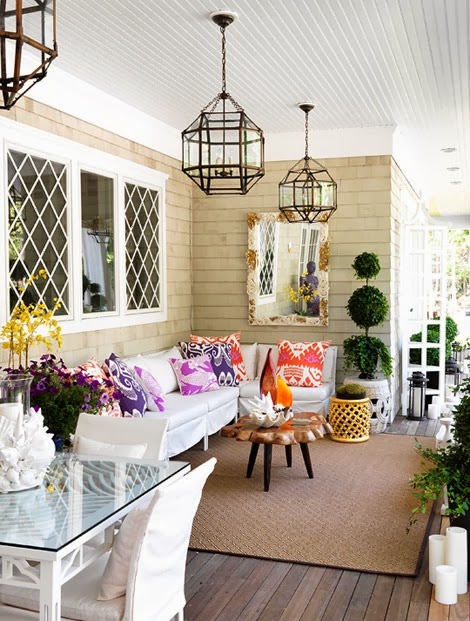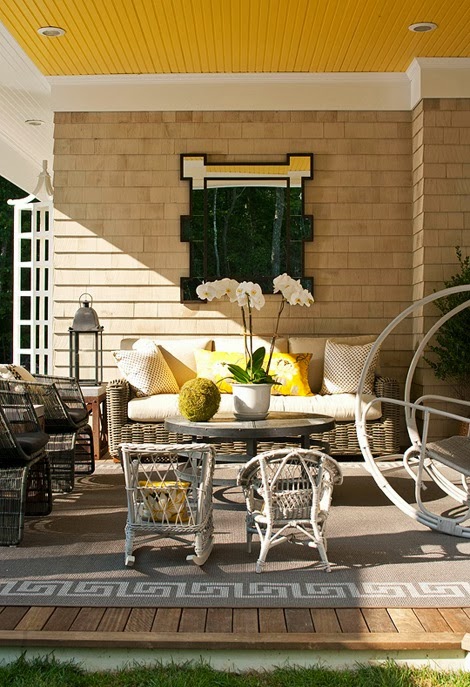 We absolutely love porches and we would be thrilled to share more with you. So go ahead and comment to tell us what you like about these spaces or your own favorite porch ideas.
Do it!
But wait, there's more! Check out our
2012 porch
post!