There is probably a medical diagnosis for the squash insanity that overtakes us each October. We just love our pumpkins and gourds! The ridges, the bumps, the awesome variety of colors and shapes. Every year we look forward to decorating with pumpkins. Clearly we are not alone in this passion for pumpkins because shelter magazines and internet pin boards are pumping out daily pumpkin inspiration.
Ready to decorate your house with some pumpkins? Here is a roundup of some of our recent favorites.
Porch Pumpkins
We love the color schemes on these fresh porches.
They are autumnal without being overly orange or obvious.
The stack is becoming very popular…
Personalized Pumpkins
Try a monogram or a message on your front porch pumpkin!
Groups of Gourds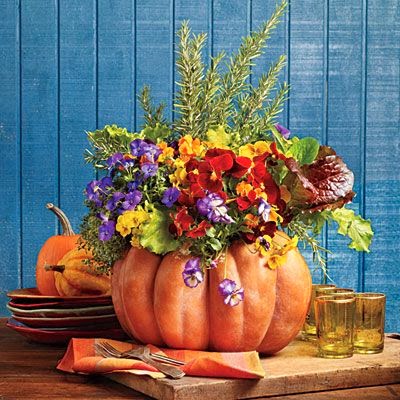 Tabletop Pumpkins
Painted Pumpkins
Purposeful Pumpkins
Pumpkin-free Pumpkins!
And of course, we can't forget the carved pumpkins!
Simple and Stylish.
Creepy and Creative
Elegantly Etched
Check out this link for more cool carvings.
So go ahead and decorate your doorstep, mantle or tabletop with some smashing pumpkins this season.
Do it!
P.S. Here are some snapshots to show you how we pumped up our own porch…
Have a favorite pumpkin decorating tip? We'd love to hear your ideas!
And if you want more gourds to love, go back in time to last year's favorites.