Pantone released their Color of the Year…
18-2120 Honeysuckle is the brilliantly bold color of 2011!
"Courageous. Confident. Vital. A brave new color, for a brave new world. Let the bold spirit of Honeysuckle infuse you, lift you, and carry you throughout the year. It's a color for everyday – with nothing "everyday" about it."
– Pantone.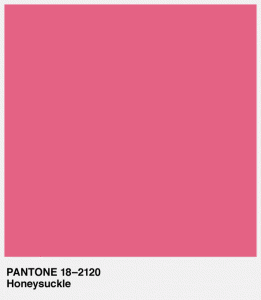 Try this color out in your home in fabrications, upholstery, rugs and wallpaper. Here are some of our favorite designs that incorporate the youthful and chic charm of Honeysuckle.
Try Honeysuckle in bedding and upholstered accents for a bedroom. We love how the pink lamps tie it all together. Honeysuckle is a great color to use for main focal points throughout the entire room. By keeping the color consistent in key elements of the design, this designer was able to create a clean and polished room.
Photo: Coastal Living

Revamp your powder room by adding an organic patterned wallpaper. This room screams "romantic energy". Honeysuckle is a perfect color for small space design, and using it will help create a lot of energy and excitement.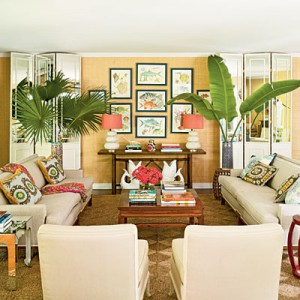 If you're nervous about going all the way, try Honeysuckle in small accents like lamp shades and flowers. When incorporated in a neutral room, pink really catches your eye.
Photo: Canadian House & Home
For a weekend do-it-yourself project, try painting an existing piece in Honeysuckle for a fresh look just in time for spring. We love how the pink is carried out throughout the accent pillows and accessories on the cocktail table.
We love seeing accent pillows or pretty roman shades in this Thibaut fabric – Marathon Pink.
For a less intense pink, try reupholstering an old chair in Kravet's Pop Flower fabric.
Don't forget to try Pantone's Color of the Year on your floors! We love Dash & Albert's Tiki Stripe area rug and especially love the turquoise, pink and orange color combo! It's just perfect for summer!