There is something about stripes and summer.
Bright, cheery, flattering when vertical — stripes are a classic summer staple for beach umbrellas, totes towels and vacation homes.
But stripes can provide classic cool off the beach as well.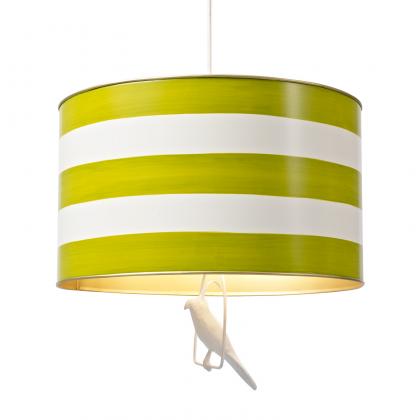 Or hang a playful striped drum shade over your table.
Aunt Kitty Drum Pendant, Stray Dog Designs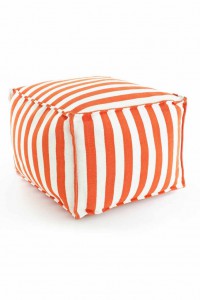 This striped poof from Dash and Albert would be great in a playroom or kids' room.
The chevron effect on the corners of a table lamp make for a dramatic stripe.
Mary Kate Lamp, Stray Dog Designs.
Another great use of the striped rug in Nate Berkus' Chicago Home.
(As seen in Elle Decor)
Or try an entire wall of reclaimed wood stripes in lieu of artwork.
Photo source here.
So go ahead and take some inspiration from your beach umbrella. Add some classic stripes to your home design.
Do it!
P.S. Got some junk in your trunk? Try this striped "Junque Trunk" storage bin from Scout.