It's back-to-school for the kids and back to business for the rest of us. After a summer outside, even we adults have some homework to attend to. While our kids might do their homework on the kitchen table (surrounded by snack food) or flaked out on the floor, the rest of us deserve a grown-up work space.
This fall we will be working on an office makeover project (more on that later), so we've been thinking about desks. There are so many different ways to go with desks, the topic requires some serious study:


Old School
You can almost hear the teacher scratching away on the chalkboard with this vintage schoolhouse desk.
Pine and Iron desk from Halo

Classic
For a classic craftsman look with a more open feel, this desk gets interesting on top of
architectural sawhorse legs.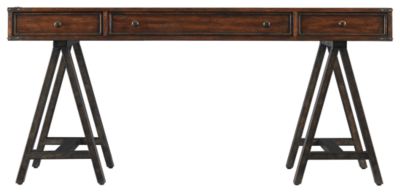 Stanley Modern Craftsman Colony Floating Drawer Desk
Transitional
Clean lines and leather detailing help this desk fit well with a variety of styles.
Contemporary
Mixed materials of wood + metal = modern elegance.
Work of Art
Bronze-cast bamboo legs that appear to be bound together with string and barely capable of supporting the walnut top — stunning (and actually quite sturdy). This piece was inspired by an artist's sketch.
Masculine
The leather drawer pulls on this masculine parsons table remind us of Ralph Lauren's iconic look.
Bohemian
Bone inlay is everywhere these days, but stainless legs make this gorgeous piece unique.
Whimsical
This would be a great desk to work into a bedroom or bath design.
Funky
Flight attendants, please prepare the cabin for departure.
Farmhouse
White-washed bead board and chrome with lots of storage space for your butter and egg money.
Eclectic
We just love the ethnic vibe from this carved-leg desk.
Multi-function
Whether serving as a kitchen island or in a family study, these desks provide room for a whole crew.
The Transformer
Is it a desk? Is it a console table? It's both!
Use it as a sofa back or console table to squeeze some workspace into a multi-purpose room.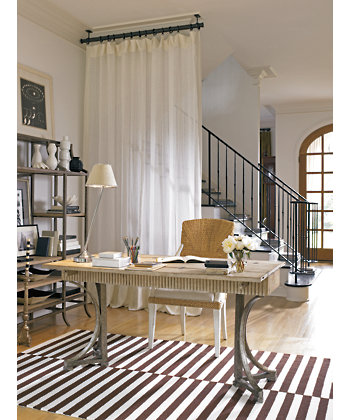 Or open it all the way for a standard office space.
The Chameleon
Don't have a dedicated office space in your home? No problem!
Look for desk styles that can blend seamlessly into the design of other living spaces.
The Built-In
Sometimes storage needs or room size make it challenging to create work spaces. Built-in computer desks are a great solution, although they can look a bit boring without help. Custom carpentry moulding, upholstered chairs, drapery and artwork can help take a built-in space from drab to fab.
An adjustable bar stool turned a countertop into computer space for this contemporary client.
The chaise is a great place to relax after the work is all done.
Room by Whittington Design Studio
This client needed to incorporate work space into a family room.
The custom cabinetry and granite worktop are softened with the use of an upholstered work chair.
Room by Whittington Design Studio
Kid-Focused
Kid-focused offices can be stylish too. The rolling stools and large table in this room make the workspace flexible and a full-size world map makes geography review a breeze. Need help with your math homework? The custom wall panels add up to fabulous!
So go ahead and carve out a well-designed space for the grownups or the children to do their homework this fall. You will get excellent grades from the whole family.
And stay tuned to our blog as we unveil some new client projects — including guest room, living room and office makeovers (complete with before and after shots). We will also have our usual fall party ideas and holiday design tips, so keep checking in for inspiration.
Do it!
p.s. Did your kids steal all your pencils for back-to-school? Check out this sharp idea!