There are not many rules in interior design that you have to follow, but a very important one is to buy what you love. Your home is the perfect place for self expression. Choose furniture, art and accessories that have some sort of meaning to you — a special memory, a color that makes you smile, or a fabric that makes your heart beat a little faster. These are the things that make your house feel like home. Design trends will come and go but if you buy what you love, your home will always be timeless.
Designers – and their friends and family – are no different from other homeowners. We may see fabulous merchandise every day, but we still stick to this important rule. Regardless of our to-the-trade-only resources and designer discounts, the best pieces in our homes are not always the most recent purchases, or the most expensive, but rather the things for which we felt true, abiding love at first sight.
In celebration of Valentine's Day, we present to you a few of our favorite things:
Mel: "This handmade coco bead chandelier from Made Goods is fabulous! The light shining through the beads makes it so dramatic and I love the tiered effect — like an upside down wedding cake."
Mel: "A four-faced stool is the perfect accessory for schizophrenic designers like me. I turn it around to show the face that best suits my daily mood. "
Judy: "I love this piece of art because it works no matter where I put it. It is green but somehow reads as neutral and it brings me a sense of peace."
Judy: "I'm mad about my wild and unruly garden! I'm a haphazard gardener, so I am always thrilled when something actually grows."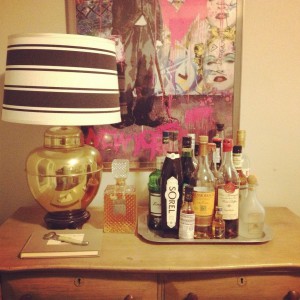 Lea: "I love my bar area. The brass lamp is a little funky and adds warmth. The shade is bold and graphic. The art is a favorite — a signed piece from Mr. Brainwash that I scored at one of his openings in NYC. I love to entertain and finding unique liquors to mix fun cocktails is something you can always expect when you hang with the Pinos."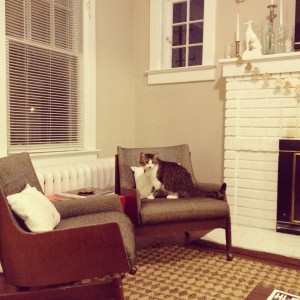 Lea: "I found a pair of vintage Kodawood chairs (with original fabric!) at a yard sale. It is really rare to find a pair, and with original fabric to boot. I love them, and so does our fluffy cat."
Kelly: "I bought this lunch box when I was antiquing with a friend. It reminds me of one that my mom packed every day for my dad to take to work. It sits on a shelf in the kitchen of our cabin and it makes me smile every time I walk by."
Kate: "I made this pillow out of a Martyn Lawrence Bullard fabric that Mel gave to me as a gift. I love the groovy ikat and the soft colors."
Kate: "Shortly after graduation, my wardrobe, air mattress and I moved to Pittsburgh. When the student loans and other joys of being an adult kicked in, my decorating budget was nonexistent. After eight months of saving every penny, I was finally able to buy a TV but I had no place to put it. The solution? Goodwill! I found this demilune in a nasty shade of brown. After sanding, staining, painting and swapping out the hardware, I finally had a fitting place to put my new flat screen TV. I love the color but most of all I love how I scored a great deal and made it fabulous all by myself!"
Lisa: "I know it's not fair to give your heart to the newest, sexiest thing to walk in the room but I just adore my new Caracole love seat. The linen fabric and tufting is easy on the eyes and the wood, leather and metal detailing add a masculine touch that makes my heart go pitter patter."
Lisa: "I am also eternally loyal to one of my first loves — and one of my first purchases from Whittington Design — my custom-made Tracy Glover kitchen pendants. The hand-blown glass ball finials make me smile every time I walk into the kitchen.
"And they coordinate perfectly with the Galbraith & Paul fabric drum shade from Room & Board that hangs over my kitchen table."
April: "I love my cow butt. The scale of this picture makes a great impact and how can you not smile when you come face to face with a cow butt?"
We love April's butt too. 😉
So go ahead and celebrate Valentine's Day by buying something that you truly love. It will always love you back.
Do it!
P.S. Speaking of love, we miss our beloved Christen so much since she decamped to Copenhagen with her husband and adorable baby girl. We asked her to send us something she loves in her new apartment and her pictures were so awesome we decided to devote an entire blog to her! Tune in tomorrow to check out "From Cophenhagan, with Love."