A little more than a year ago, we decided to pack up our office space in the lower level of a really busy shopping center and move on up to sunshine and better parking.  Of course designers don't just move.  This was a great opportunity to unleash our passion and creativity, within reason (and budget).  Take a look at how we created our new office space, from start to finish.
We were very excited to find a contemporary building in a great location.  The building was designed and built by Francis L. Koenig in 1966 and originally housed a newspaper.  Now it is home to like-minded professionals, including an artist studio and a commercial designer.  The calm and professional vibe in the building was a sharp contrast to our previous location.
We were instantly attracted to the unique window design (if not the metal blinds).  We loved all that light after living for so many years in a lower level office space.
Besides the windows and the location, there were lots of things to love about this new office.  Bookcases for one — because we designers have a lot of storage needs.
But there was also a lot of work to be done to open up these old offices and make the new space work for us.  Luckily, the building owner was agreeable to our plans.
We started with removing a wall between two suites.
Meet our demolition crew:
After we tore down the walls we didn't need, we had to start creating new walls — for privacy.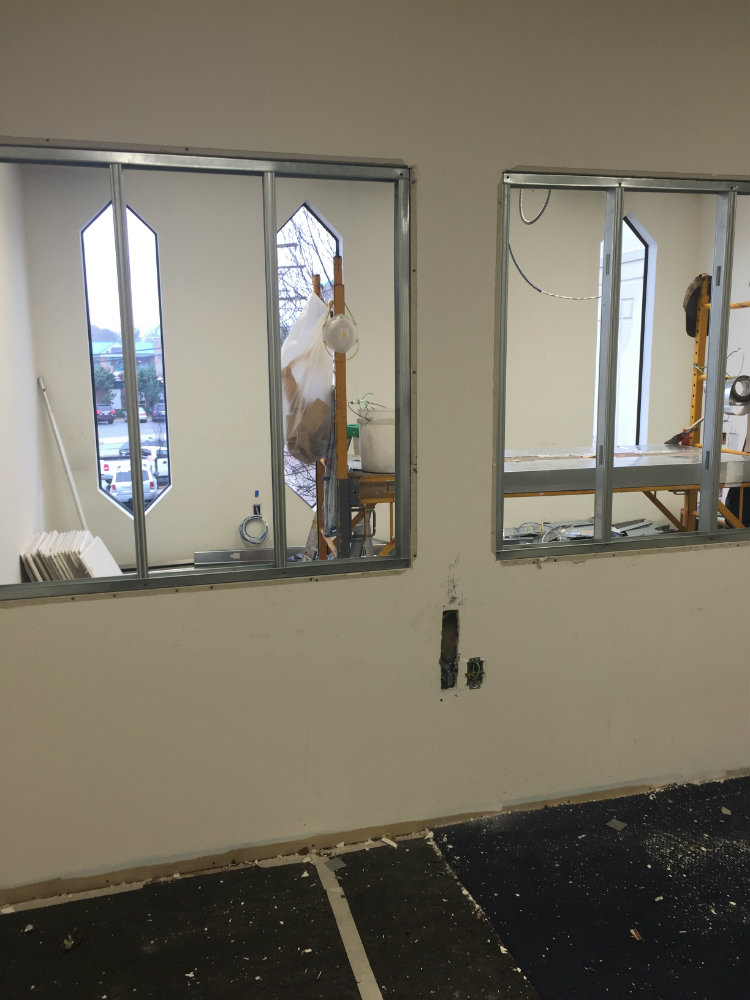 Here we walled off the opening between the entry and Mel's new office space so she could create beautiful designs without feeling like an exhibit at the zoo.
A wall in the work room was built to separate us from the noise and clutter around the copier, anchor our large work table and create a space for inspiration boards (on the front) and fabric sample storage (on the back).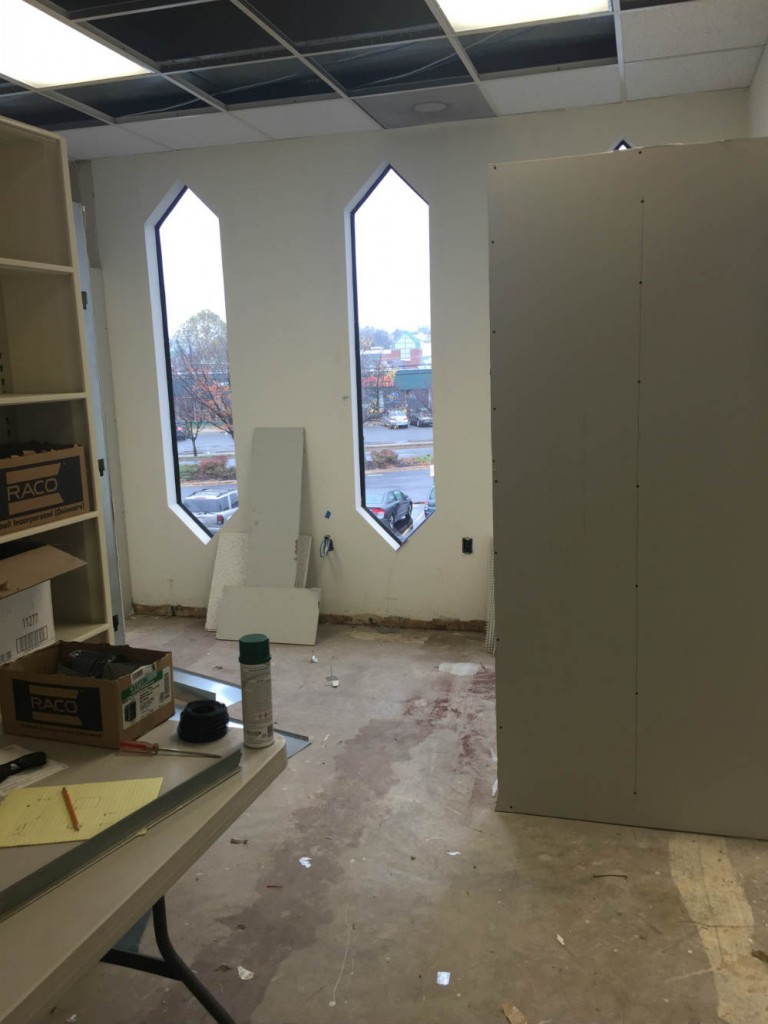 On the other side of the workroom, a partial wall helps create private designer work spaces without blocking all that gorgeous natural light from our windows.  It also provides an anchor for more storage.  (Did we mention we need a lot of storage?)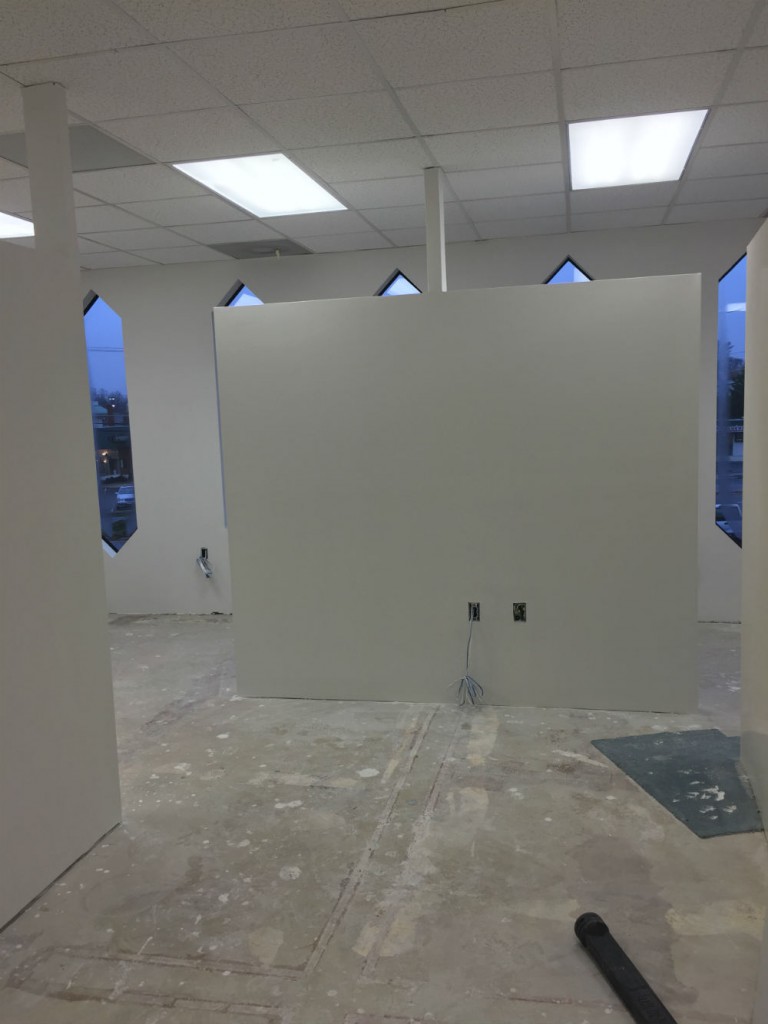 We used full glass doors throughout to keep the natural light flowing through the space:
And added a picture window in the entry so that passersby could see what we have to offer:
We went to Ikea to get everything we needed for an office kitchen and, you guessed it, storage area (Cesar is a genius by the way):
Up above we replaced all the ceiling tiles:
And down below, all the industrial grade carpet had to go.
So that we could install this durable gray-washed, hand-scraped faux wood vinyl plank flooring — it looks great and is way more affordable than hardwood: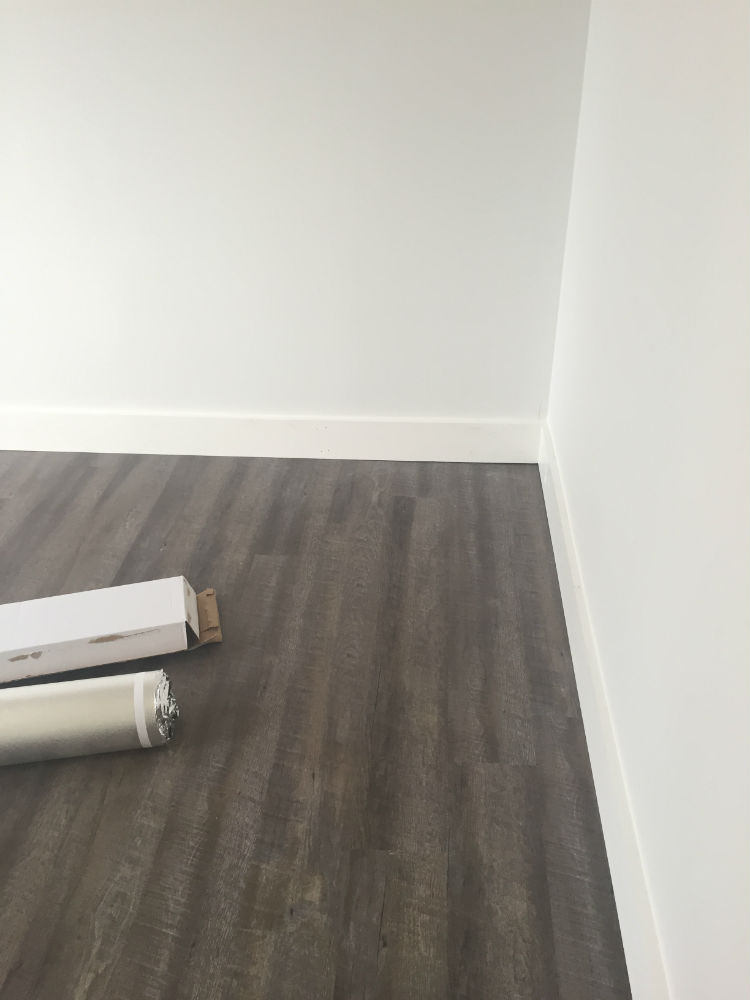 With private work spaces and a fresh, clean back drop, the real fun could begin!  We got to work selecting furniture and finishings that inspire us and make us smile every day when we come to work.
Join us for a virtual tour of the results:
The Entry & Showroom:    Welcome!  A full glass front door and open picture window give visitors a preview of our entry area and showroom space.
The table top is custom caesar stone and provides a clean slate for presenting products and designs.  The sofa is from Vanguard.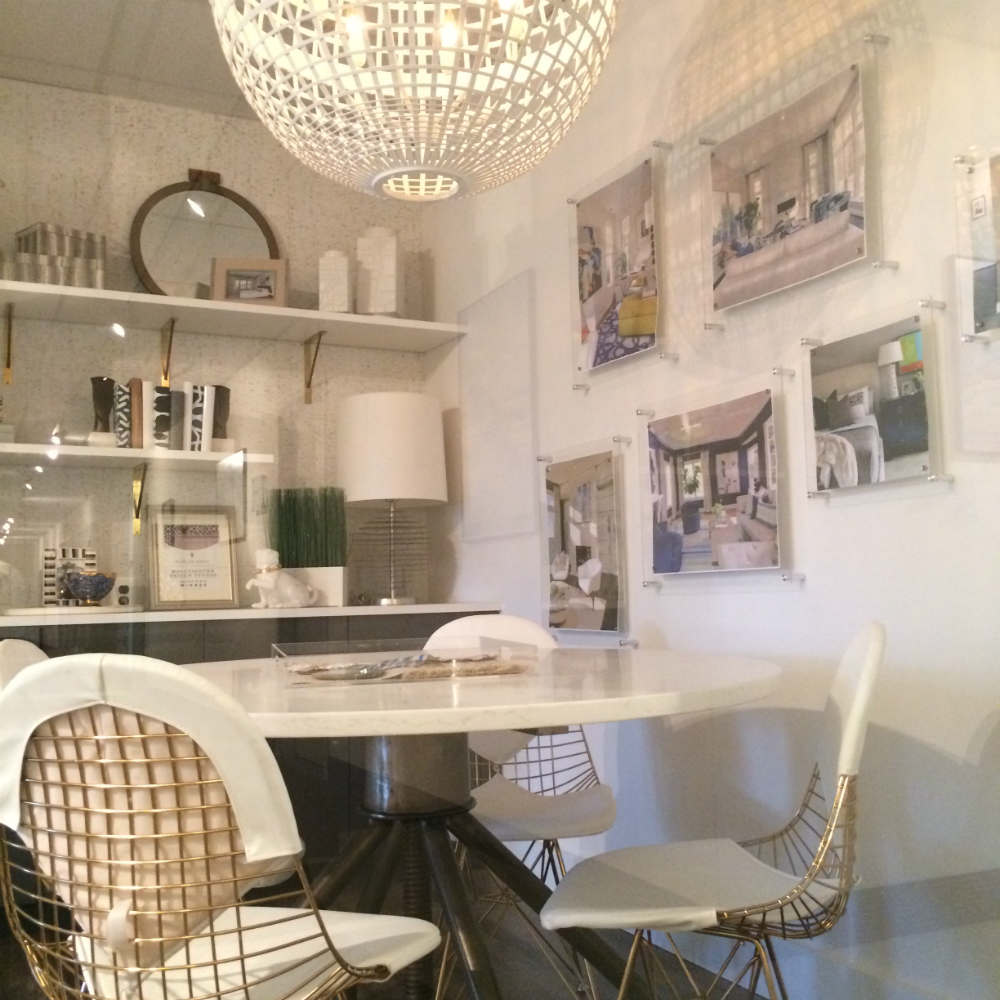 Behind the conference table is a portfolio wall with some of our client projects displayed behind glass.  We discovered these frames at market last year.  Magnets hold the art to the back of the glass so switching up the look is a snap.  A great idea for gallery walls of all sorts.
Above the conference table is an eye-catching light fixture that is also visible through our display window and regularly attracts fan commentary from passersby.  The book shelves allow us to display accessories and objets that we keep in stock for projects, as well as providing another place to unleash some creativity (and more storage below!).
Books not pretty enough for you?  We wrapped ours with wallpaper samples!
A papier mache coffee table from Stray Dog is custom-colored in Benjamin Moore Stone Harbor and makes a great perch for our foo dog.  (That little guy keeps moving around when we're not looking).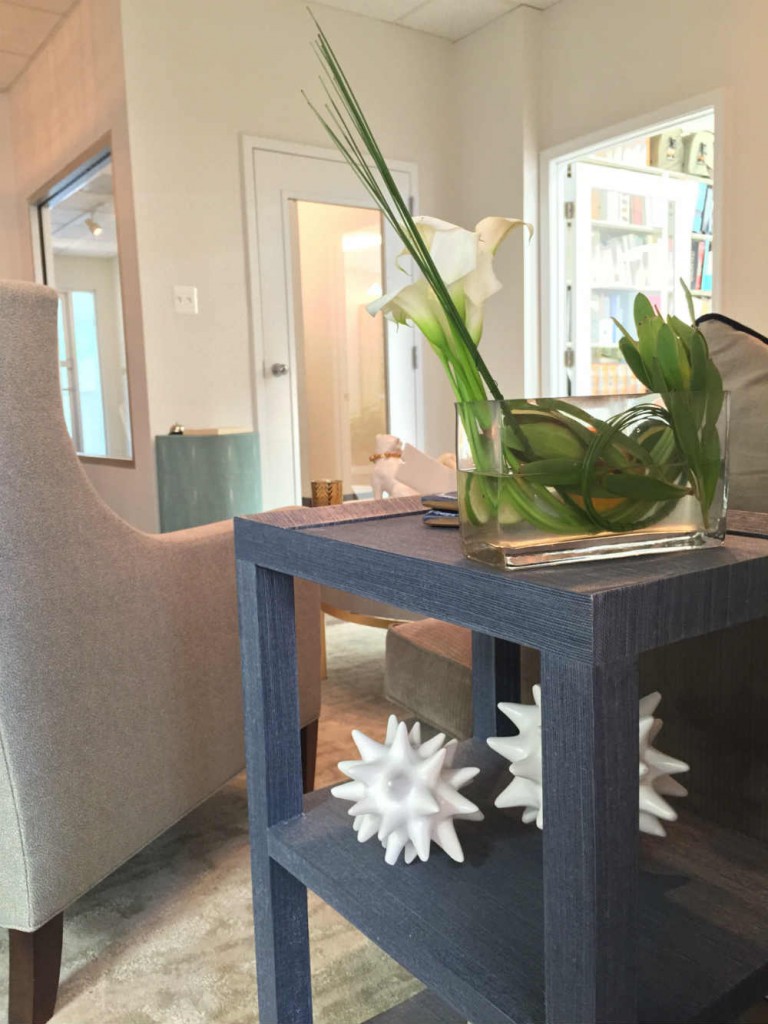 A blue raffia/grass cloth end table adds a little color and some more display space for accessories.
No office is complete without a bar cart…
Mel's Office:  This space does double duty as private workspace for Melanie, but an extra large work table with lots of seating provides an alternative meeting space.  We custom built a sliding barn door on an industrial track system, which allows her to keep the space open to creative collaborations in the office but closed when privacy is required (the door handle is made from hardware pipe fittings).  The clean and crisp gray, white and navy color scheme is carried throughout the office.
Mel's office chair provides a splash of cerulean on the navy rug.  The brass base coordinates with the mid–century style, light-weight and very movable guest chairs (seen around the showroom conference table as well).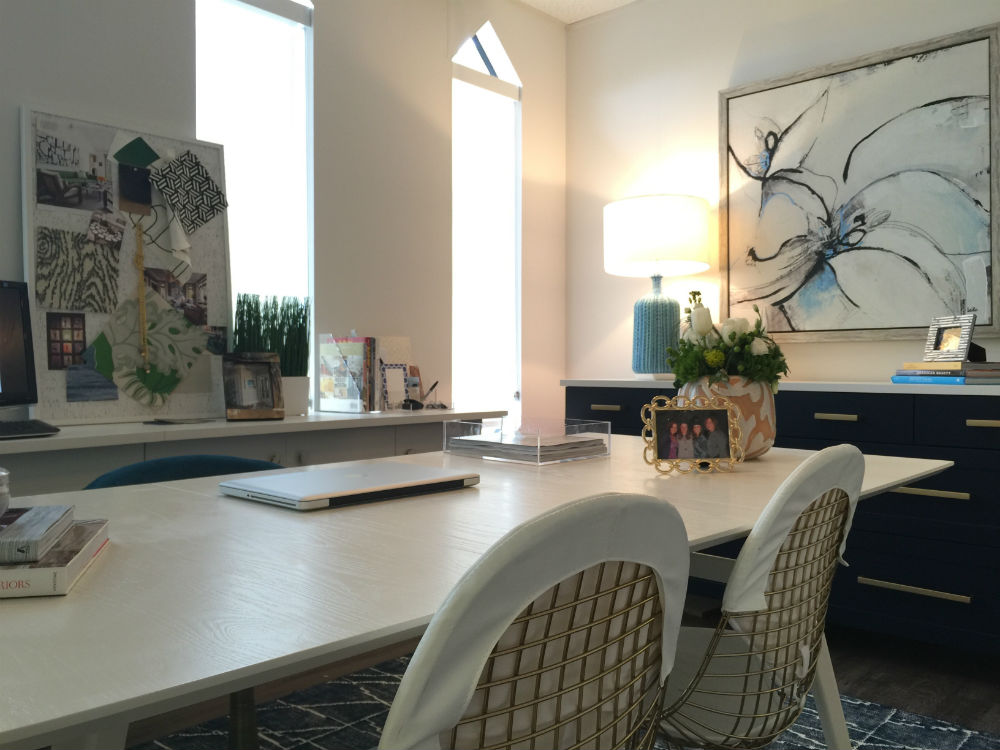 Those unique windows drew us into the space but also presented a challenge for window treatments.  We kept it simple with custom woven blinds that let the bright, natural light through while keeping the sun out of our eyes.
More sample storage space was created with a our very own Ikea-hack:  adding dark navy paint and gold spray-painted hardware to Ikea kitchen cabinetry and topping it off with a white countertop.
This photo is just to prove that the Whittington boys are not only about demolition.  Check out the awesome flower vase made by Noah in ceramics class!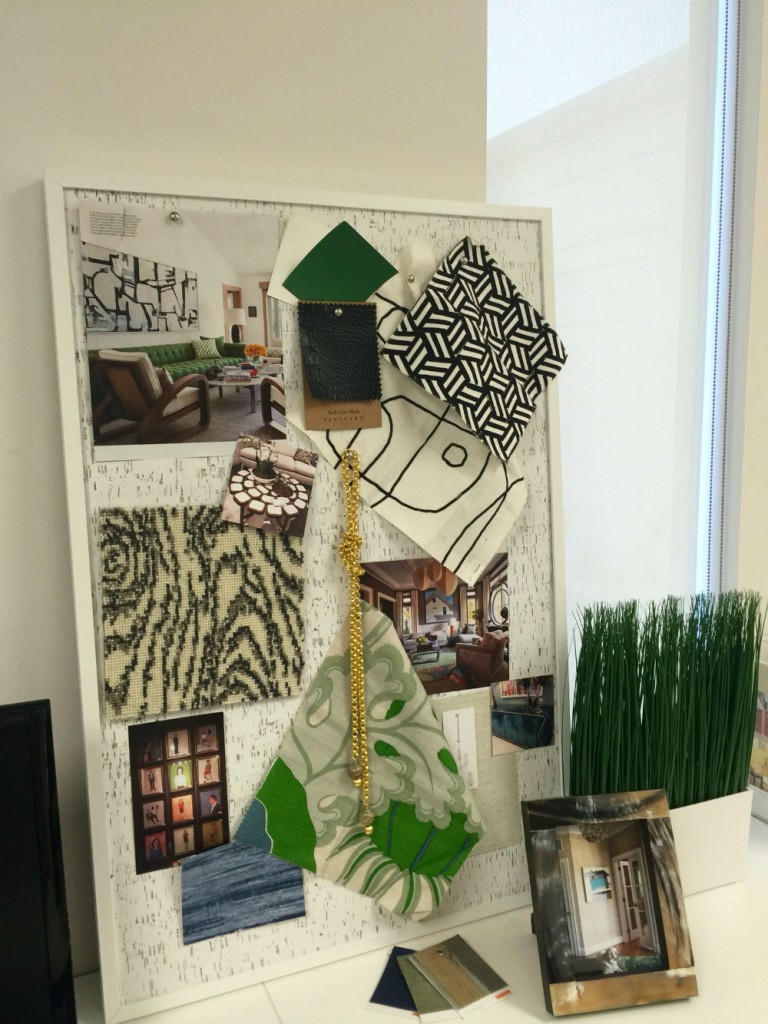 We have inspiration boards throughout our new space and we switch them up regularly when we are working on projects or just need to rev up the creative juices.
The Workroom:  This is where a lot of the magic happens.  We brought our island and collaborative worktable over from the old office, adding light fixtures from Seascape to spotlight our projects.  Lots of bar stools make staff meetings and project reviews comfortable.  We also re-purposed bookcases from our previous space to house our sample books.
On the other side of the work island, peg boards and pipe fittings provide us with even more sample storage:
Kate's Space:  Bathed in light and filled with small bits of inspiration and personal joy, Kate gets to work on her designs.
Angie's Space:  Art, flowers and organization keep Angie's bright work space happy and productive.
Aside from being a virtual dungeon (at least from a lighting perspective), our old office space offered a very small store front and tiny meeting area for clients and the rest was very utilitarian, over-stuffed and (truthfully) a little bit messy.  Our new space, by contrast, is light, open, spacious and filled with canvases for our design creativity.   The opportunities to create little moments of beauty are endless.
And it's also a great space for parties!
It's so great to start a new year the way we ended the last:  bathed in light and inspiration.
It was a good move.  Come see us some time!